Virtual Launching Ceremony of the Commercial Judgment System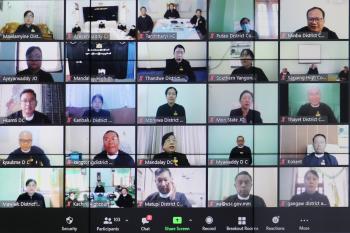 Nay Pyi Taw, Feb 17
The Launching Ceremony of the Commercial Judgment System was held at 09:30 am this morning virtually at the Meeting Hall of the Supreme Court of the Union, Nay Pyi Taw and opening speech was delivered by the Union Chief Justice U Htun Htun Oo.
In his speech, the Union Chief Justice said that the Commercial Judgment System is a new pace of the court technology implemented with the assistance of the Denmark-Myanmar Country Programme on Rule of Law and Human Rights to be transparent the court activities; to assist the process of providing court information and raising public awareness; and to get high ranking in Ease of Doing Business in Myanmar. The Union Chief Justice also said that the commercial judgments will be accessed by advanced search of meta data in the place of using efforts to find out them physically. He also urged that the trial judges must pay much more attention to their judgments to be legal, to be impartial; and be qualified.
In the ceremony, Director General of the Office of the Union Judiciary Supervision, Daw Tin Nwe Soe made the presentation on the process of the Commercial Judgment System, by showing video clip of the system.
The Ceremony was presented by Justices of the Supreme Court of the Union, Chief Judges of the High Courts of the Region and State, responsible officials from the Supreme Court of the Union, Heads of the Region and State Judicial Office and District Judges.
The Myanmar Law Reports from 1948 to 2018 are available on www.rcms.usc.gov.mm, and commercial judgments of courts at different level from 2018 to 2020 are also available on www.cjs.usc.gov.mm by searching relevant facts.